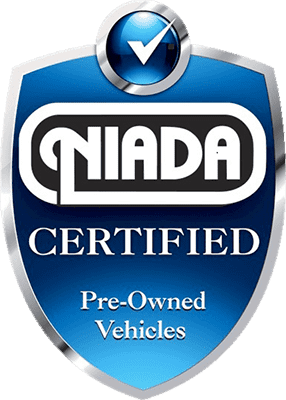 Buy Your Ride is proud to announce the NIADA (National Independent Auto Dealer Association) Certified Pre Owned Program(CPO).
This program is offered on select vehicles and gives buyers peace of mind when they make a purchase. All CPO vehicles are backed by a NIADA Powertrain Plus Limited warranty of 3 months of 3,000 miles.
Buy Your Ride customers have the peace of mind when purchasing a vehicle. Each NIADA CPO has gone through an extensive mandatory inspection. The inspection report will be included with every purchase.
Certified cars also qualify for lower-cost extended coverage plans that can be purchased at the time of sale.
Details of CPO coverage: POWERTRAIN PLUS 3-month/3,000 mile
Nationwide Coverage
Roadside assistance
Worry free limited warranty
Vehicle History Report Included
Covers the following systems and components
ENGINE COMPONENTS
All internally lubricated components and: Balance Shaft and Belt, Piston, Crankshaft, Camshaft, Timing Belt, Timing Cover, Timing Chain, Timing Gears, Engine Mounts, Flexplate, Exhaust Manifolds, Intake Manifold, Turbo Intercooler, Turbo Assembly, Turbo Wastegate, Crankshaft Pulley, Oil Pan, Flywheel, Oil Pump, Engine Oil Reservoir, Engine Oil Reservoir Pump, Seals and Gaskets, Cylinder Heads, Supercharger Assembly, Valve Covers, Supercharger Intercooler, Equipment Drive Shaft; Engine Block (but only if damaged as a direct result of a mechanical failure of a covered component). Rotary engine components including: Rotor, Bearings, Apex Seal, Eccentric Shaft
MANUAL TRANSMISSION
Transfer Case Components: ALL internally lubricated components and: Transmission Mounts, Seals and Gaskets, Clutch Master Cylinder, Clutch Release Cylinder, Gears and Shaft, Hydraulic Clutch Lines, Shift Linkage; Case (but only if damaged as a direct result of a mechanical failure of a covered component)
AXLE ASSEMBLY COMPONENTS
(Front, Rear, Four-Wheel and All Wheel Drive): All internally lubricated components and: Propeller Shaft, Universal Joints, Thrust Washers, Seals and Gaskets, Axles and Bearings, Locking Hubs, Constant Velocity Joints and Boots, Center Support Bearing, Viscous Coupling, Drive Axle Housing (but only if damaged as a direct result of a mechanical failure of a covered component)
AXLE ASSEMBLY COMPONENTS
(Front, Rear, Four-Wheel and All Wheel Drive): All internally lubricated components and: Propeller Shaft, Universal Joints, Thrust Washers, Seals and Gaskets, Axles and Bearings, Locking Hubs, Constant Velocity Joints and Boots, Center Support Bearing, Viscous Coupling, Drive Axle Housing (but only if damaged as a direct result of a mechanical failure of a covered component)
AUTOMATIC TRANSMISSION
Transfer Case Components: ALL internally lubricated components and: Torque Converter, Shift Linkage, Vacuum Modulator, Seals and Gaskets, Solenoids, Transmission Mounts; Case (but only if damaged as a direct result of a mechanical failure of a covered component)
ELECTRICAL
Starter Motor, Power Window Motor/Regulator, Starter Solenoid, Power Mirror Motor, Wiper Motor, Manually Operated Switches
SUSPENSION COMPONENTS
(Front and Rear): Upper and Lower Control Arms, Control Arm Shafts, Radius Arm, Spindle Support, Spindle, Bearings and Bushings, Tie Rod Assemblies, Upper Ball Joints, Lower Ball Joints, Steering Knuckle, Electronic Modulated Suspension Actuator
BRAKE COMPONENTS
Master Cylinder, Brake Booster, Wheel Cylinders, Disc Brake Calipers, Parking Brake Cable, Brake Line and Tubes, Proportioning Valve, Load-Sensing Proportioning Valve
STEERING COMPONENTS
Idler Arm, Relay Rod, Tie Rod, Pitman Arm, Steering Column Shaft, Steering Column Coupling, Steering Dampener, Steering Column Assembly, Power Steering Pump
COOLING SYSTEM
Engine Fan Motor, Radiator, Water Pump
AIR CONDITIONING/HEATING
Heat pump, Condenser, Evaporator, Bearings, Compressor Clutch Assembly, Compressor